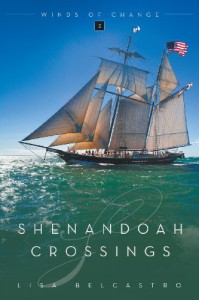 I picked this book up after reading Lisa Belcastro's first book, Shenandoah Nights. Shenandoah Crossings is a continuation of this book but now focuses on one of the minor characters from the first story, Tess Roberts, and her adventure in 1775. Whereas in the first story, Rebecca travels accidentally and falls in love, Tess goes intentionally, both to escape her frustrations with her own life and to find her best friend Rebecca.
Tess is a complicated character. I both like her and dislike her. She is 25 but extremely immature and selfish and much of what comes out of her mouth in the story made me want to slap some sense into her. However, she is also passionate, fiercely independent, and determined to be an equal in her family and this is what drives her. It may drive the reader a bit batty but they are qualities to be admired. In the story, Tess has been in love with Hawk for two years. He is the first mate of her father's ship, the Shenandoah, and because she is the captain's daughter, he will have nothing to do with her. As Tess sees everyone around her getting what they want, and knowing Rebecca found happiness in 1775, she also decides to time travel. When her family realizes what she has done, they are furious and frightened and Hawk volunteers to travel back to find her. Without spoilers, the story mostly revolves around she and Hawk in 1776 and at this point, you won't want to put the book down. The history and the romance will keep you turning the pages until the end.
There is also a small side story that focuses on Tess's brother Andy but it kind of drops off once the main story in 1776 takes over. We see him again briefly at the end of the book but I felt like his story had a huge hole in it. I would have liked the book to be a bit longer and have the stories flow together in a way that would keep his story alive.
Although I did enjoy Shenandoah Nights a bit more, this was also a great story with both intrigue and romance and history. A wonderful combination. The only reason I favor Shenandoah Nights is the personality of the main character, Tess. She just upset me at times with her irrational thoughts and decisions. Otherwise, both books were engaging and fun to read. Enjoy them!